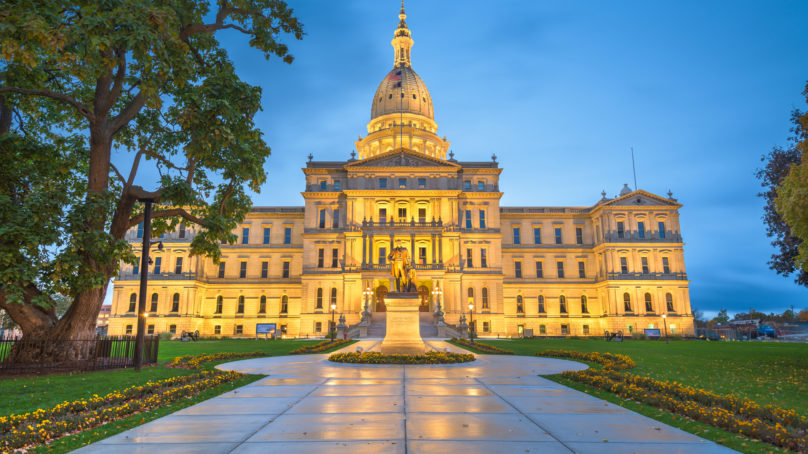 On Wednesday, May 13, over 400 credit union representatives met virtually with Michigan Governor Gretchen Whitmer and Department of Insurance and Financial Services (DIFS) Director Anita Fox to discuss the state of the industry. Organized by the Michigan Credit Union League (MCUL), the meeting also gave industry representatives an opportunity to ask questions of the administration and the measures they have and will take to ease the financial burden on Michigan residents.
Dave Adams, President/CEO of MCUL and CU Solutions Group, hosted the meeting and kicked it off by highlighting the many accomplishments Michigan credit unions have already achieved to help their members during this time. Those include over 300,000 fee waivers resulting in over $6 million saved for members, over 4,400 emergency loans created, and many more existing borrowers with payment terms modified. For a full list of those accomplishments, visit the MCUL website.
Whitmer, who began by providing an update on the steps that have been taken to counter coronavirus, went on to speak on the measures Michigan's credit unions have implemented. "The support, flexibility and assistance Michigan's credit unions have provided to Michigan homeowners and small businesses has been critical to helping Michiganders navigate the financial challenges caused by COVID-19. Michigan's financial institutions will be key to our efforts to restore and grow Michigan's economy going forward."
As the conversation moved to questions, credit unions cautioned the Governor on potential implications of sweeping government mandates as they related to financial relief. Patty Campbell, CEO of Christian Financial Credit Union (Sterling Heights, MI), said: "We appreciate your focus that you had initially on with launching the MiMortgage [Relief Partnership] and understanding how important it is to keep consumers in their homes. But I'd like to caution or hopefully make you aware of the potentially negative consequences of broad-based, government mandated foreclosure moratoriums, or mandates for mortgage payment forbearance."
Campbell went on to ask for assurance from the Governor that credit unions will "have flexibility to manage these ourselves, and manage this risk, because we too have the same focus to keep consumers in their homes." Whitmer recognized the importance of maintaining financial viability and reiterated the importance of both sides working together to find the balance between protecting homeowners and protecting financial institutions.
As the conversation continued, others added their appreciation for state government measures, but also concern that some changes may inhibit credit unions' innate desire and ability to serve their members' best interests. The overall tone, however, was of appreciation for the administration's openness and willingness to confer with the industry.
Director Fox expressed her department's continued interest in working closely with credit unions and the MCUL to implement changes that will best serve all involved. "Michigan's financial institutions have remained open, accessible and available to help their customers throughout this crisis," said Fox. "We are proud to partner with Michigan's credit unions as they work to help the communities they serve during these challenging times."