Minneapolis, Minn. (Oct  24, 2022) – NetGiver announces Glynn Frechette as the new Chief Revenue Officer for the Minnesota based CUSO. With an extensive history serving both the financial and philanthropic spaces, Glynn's experience with top-line revenue growth, leadership, and internal innovation joins NetGiver at a pivotal point of scale. Most recently, Mr. Frechette was SVP at PSCU, and previously First Data Corporation.
With over 27 years of experience as a transformational business leader, Mr. Frechette has developed a longstanding record of elevating organizations and growing profitability. Coupled with this business acumen is Mr. Frechette's passion to contribute substantively, and give back to the community.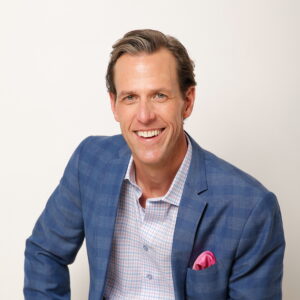 "'Leading a life of significance' is not just a cool headline to put atop a Social Media profile," said Mr. Frechette, "but rather it is my overt mission to prioritize a responsibility of truly doing and caring for others. 'Giving' comes in many shapes, forms, and sizes and I personally believe that we stand on the shoulders of those who have come before us that have 'given' so graciously of their time, resources and skills.  I am so fortunate to realize professional success by selflessly imparting contributions to organizations and communities made possible by NetGiver. "
Mr. Frechette's appointment comes as NetGiver approaches the 2022 giving season and has supported nearly a million dollars in no-fee donations from credit union members and their communities. NetGiver has grown from a member-only single-use application to an award-winning platform designed to foster credit union member loyalty, values alignment, membership growth and support delivery of credit union products and services.
"We believe that Glynn is the ideal CRO for NetGiver in this next chapter of scale," said Eric Berg, CEO and Co-founder of NetGiver. "Glynn brings a wealth of experience and knowledge to NetGiver – not only because of his years of experience in building relationships within credit union nation – but also with his leadership in helping grow and shape smart business solutions. We're very pleased to welcome him on our team."
Before joining NetGiver, Mr. Frechette was Senior Vice President of PSCU where he served in multiple capacities during his tenure having responsibility nationally for the Advisors Plus Consulting Practice, Sales, Solution Consulting and Community Banking. Glynn Frechette serves on the board of Auxilia, Inc (nonprofit donor management software), is the exclusive advisor to a for-profit CEO, and mentor to both a Denver Rescue Mission program participant, and two eighth grade Capstone Entrepreneur students. He earned a Bachelor of Science from Florida State, with further graduate certificates from MIT (Sloan School of Management), Stanford University, The Wharton School, and University of Chicago (Booth School of Business).
To learn more about NetGiver, sign up for an online demonstration or request a call: www.netgiverapp.com/.
To connect with Glynn Frechette at NetGiver, please email directly at: glynn@netgiverapp.com
About NetGiver
NetGiver is a Minneapolis based Credit Union Service Organization (CUSO), founded in 2019, focussed on the business of giving back. Delivering 100% of donations to 501(c)(3) organizations, NetGiver is provided as a secure and easy-to-use platform, where members and community members make safe, secure, and direct donations. Credit unions provide NetGiver's no-fee platform to engage in values-based marketing, member loyalty, and member acquisition as well as product conversion opportunities. For more information, visit netgiverapp.com.