75 years is a significant milestone to achieve. It's the diamond anniversary, the platinum jubilee, and the semi-sesquicentennial celebration. 75 years calls for grand celebrations, and the credit union industry will deliver exactly that on October 19th, 2023, when it celebrates the 75th annual International Credit Union Day.
For three-quarters of a century, credit unions, cooperatives, CUSOs, and their supporters worldwide have been using this day to not only remind credit unions and their members what the industry stands for but of what they can achieve together and the bright financial futures they can empower. This year, the event's 75th, promises to bring all the fanfare the occasion deserves.
History of the event

International Credit Union Day was created by the Credit Union National Association (CUNA) and the World Council of Credit Unions (WOCCU) in 1948 with the mission to "Celebrate the spirit of the global credit union movement. The day is recognized to reflect upon the credit union movement's history, promote its achievements, recognize the hard work, and share member experiences."
Each International Credit Union Day celebration has a unique theme that highlights the credit union difference, its founding principles, and all that the industry has to offer. The first year's theme was simple and to the point: "Now is the time to build a better world through credit unions," which aimed to bring attention and awareness to the credit union movement, which was only 39 years old in 1948. Past themes have also included "Inspiring Hope for a Global Community," "Credit Unions: The Heart of Our Communities," and "Credit Unions: A friend in need, a partner's progress."
Celebrating 75 years
In the 74 years of celebration and commemoration since its inception, credit unions and credit union advocacy groups around the world have eagerly and enthusiastically championed the event by volunteering, donating, and hosting events in their own communities.
To kick off this year's festivities, the Worldwide Foundation for Credit Unions (WFCU) held a Global Connections webinar on the morning of the 19th featuring "stories of resilience and courage from Venezuelan migrants benefiting from the Economic Inclusion Project, and Ukraine's Olga Tugai, President of All-Ukrainian Credit Union Association in conversation."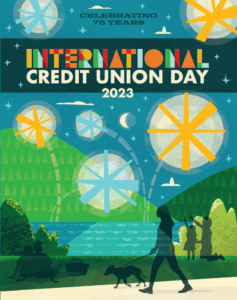 The WFCU is also working to raise $750,000 to donate to those in need of financial support through their Members Helping Members campaign. You can learn more about the initiative here.
Keeping with tradition, over 86,000 credit unions and 375 million members in 118 countries will celebrate International Credit Union Day and the credit union difference this year as they work to share their passion for the industry and their appreciation for their members. And for the 75th anniversary, the sky is the limit on what credit unions can do and achieve. Credit unions are finding ways to celebrate with their members whether it be via social media or in person, proving their commitment to their communities.
American Eagle Federal Credit Union in Connecticut, for example, has turned ICU Day into Member Appreciation Day, offering food, giveaways, and activities for kids all day long. Others, such as OTIS Federal Credit Union in Maine are hosting barbeques and offering gift bags to members. Some, while not hosting any events, are using the day to give back by volunteering in their communities.
Some states are stepping up even more still. To honor the 75th International Credit Union Day, governors in states such as Iowa and Minnesota have issued proclamations declaring October 19, 2023, as Credit Union Day. How is your credit union celebrating International Credit Union Day this year?
For more information on ICU Day, visit the official site.
Reflecting on past themes
In the earlier years of the event, not all International Credit Union Days had themes. Between the founding in 1948 and 1960, only three years had themes: 1948, 1954, and 1958. However, they became standard in the '60s and remained from then on. As we celebrate 75 years of International Credit Union Day, take some time to reflect on the themes of years past and how we can apply them to today and the future.