As the air is lacking its autumn breeze, and the leaves on the trees are still decidedly green, it's not quite fall yet. However, schools don't tend to base their calendars off Michigan weather, and thus, it's still time for kids to go back to school. As thousands of students, parents, and teachers flock to Target, Meijer, and the mall to fill up on new school supplies, many are left at home without the proper funds to get those coveted supplies.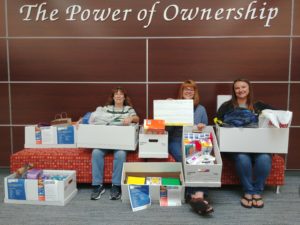 Thankfully, Stuff the Bus is here to help those students and teachers get the materials they need for a successful year in school.
United Way, a local organization, set out on hosting its annual event with the goal to get more school supplies to Kent County, Michigan students and teachers than ever, and the Communi7y Crew was working right there with them.
Along with the Communi7y Crew, many business and companies, credit unions included, participated in this fundraiser. Most credit unions embrace community involvement efforts as part of their cooperative philosophy, helping their member-owners participate in local charity events. Being a non-profit financial cooperative means using their capital to invest back into the community, and many credit unions actually budget for community donations and volunteer efforts and have community involvement in their mission statement.
With so many community members and business stepping up to help, the outcome of the event was fantastic, setting a record with 97 collection boxes and 67 Stuff the Bus sites. Over 40 workplaces were included and the total number of school supplies donated amounted to over 19,000. Hopefully next year's event continues this record-setting trend.
The Communi7y Crew takes pride in helping not-for-profit charities in the community, fulfilling the 7th Cooperative Principal: Concern for Community. The Crew has over 15 members and works each year to promote the efforts of local charities.
"Whether you hosted a collection site, donated, volunteered or all three, you can feel good about the impact you've made on elementary and middle school student here in our community" – the United Way.